As you may have heard around the blogosphere, last week was the great storm of Miami. Seriously, it was ridiculous and I ended up with major cabin fever. So when it finally cleared up, El Hombre and I decided to go for a walk around the Coral Gables Golf Course right before sunset. Despite the thick humid air and mosquitos, it was fantastic to get out and stretch our legs. There were lots of other people biking, running, walking and hanging with their families. We saw kids chasing lightning bugs and groups gathered, talking with neighbors. Clearly everyone else was eager to get outside too.
The golf course itself is not that exciting, and has to be kind of boring to play because it's very flat (especially compared to the places in North Carolina) but it has tons of these massive Banyans that have to be a bitch of a trap: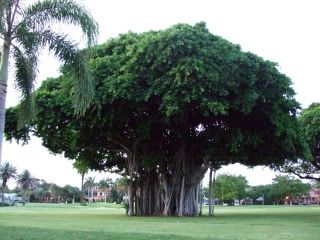 I love Banyans because I think the sheer size of the canopy is really really cool and there's nothing like seeing all those roots hanging down. The first time I saw one of these I was fascinated.
We also found this historic site, which we explored but never found the fig tree:
This is a nice walk and there are lots of really nice houses to scope out. But next time I will wear repellant.