As we all know by now, this was a rainy weekend, one that made me glad I no longer live on Miami Beach. Even though we weren't flooded out where I live, we were still cooped up indoors, leading to a massive case of cabin fever. So Saturday, after the rain subsided, El Hombre and I decided to scope out the Goombay Festival in Coconut Grove. For those who may not know, the Goombay Festival is one of the largest black heritage festivals in the US, and is basically a celebration of the Bahamian culture. Bahama Village in Coconut Grove is one of the earliest settlements in Miami for those of you who may not know.
In many ways, most street festivals have the same basic setup: Live Music, vendors, food stands and entertainment, and this one was no different. Instead of arepas, there was conch, fried fish and crab (which I would have chowed down on, had I not just eaten at Big Cheese.) There were also these Miami Fair standards:
We also walked in at the perfect time to catch the parade: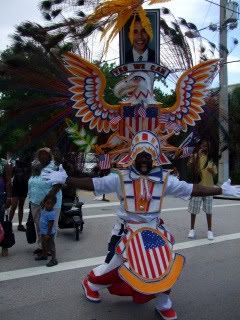 I loved the costumes! So colorful! And the lead guy (photo above) was cheesing it up for all the cameras and having a blast.
One thing I noticed was the ambiance was very chilled out. Maybe it was because of the rain that has kept everyone inside all week, but everywhere you looked, people were laughing, meeting up with friends, enjoying food and dancing to the music.
One thing did not go unnoticed though: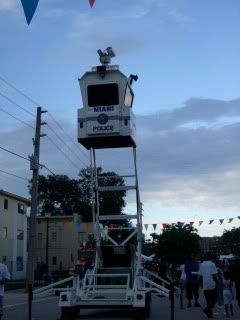 Big Brother was definitely watching everything going on.
What did upset me was the amount of garbage on the ground. It was senseless, as the city provided plenty of trash cans along the street. I hate seeing so much litter, I think it's trashy and it reflects a lack of pride in your community. This is something I see throughout Miami-Dade County, but it just seemed so much worse during this event.
After we walked the length of Goombay, we took advantage of the clear evening to walk around the Grove, where I was able to snap these photos: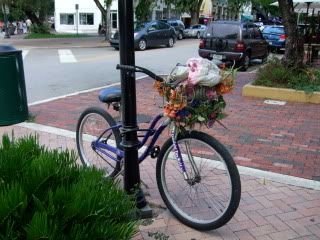 (Love that the Grove has a bike culture)