The other day I met up with my friend
Rose
to enjoy Buttercream Cupcakes and Coffee. See, it all started over a Facebook debate over whether Mishi's has the best cupcakes. I disagreed with her, claiming that Buttercream had the best. So in order for her to make an informed decision, she joined me in South Miami.
I would like to point out that El Hombre gets very excited when he sees this box: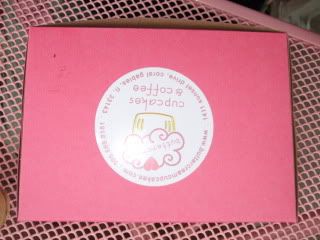 Because it usually means that he will find something like this inside: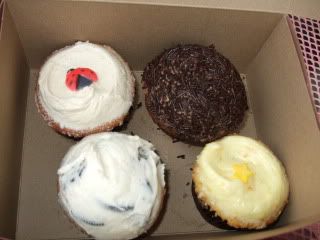 (Vanilla, Triple Chocolate, Oreo, Orange)
Or: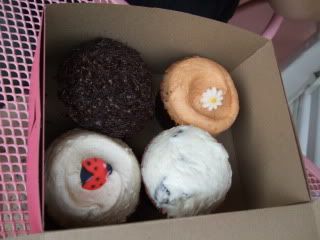 (Triple Chocolate, Guava, Vanilla, Oreo)
One reason why I advocate for Buttercream, other than how fantastic their cupcakes are, is that you can sit outside and enjoy your beverage and cupcake, in cute pink chairs and tables. It's on the prettier side of Sunset, between the circle and Sunset Place.
And of course, I had to give Rose the 305Misadventures tour of South Miami/Coral Gables, since she had never been in the area. So we toured up Sunset to the circle, down Old Cutler to Red Road, wound around Sunset Place, through to Coral Gables where we saw the backroads of the neighborhoods, starting from the Biltmore and ending by the ruins. The ruins, by the way, are under construction so I will have to stop by again in the next few months to see what's going on over there.
I would like to say that showing off my side of the city on a breezy dusky evening, with windows rolled down is quite a fun way to spend time with friends. Especially after cupcakes :-)