I have been longing for a vacation for quite a while now. Between the stress from work, everyday life and the economy, I have just needed a break. The kind of break where I just chill out and relax, without access to email and the internet. This past weekend, El Hombre took advantage of the long weekend and headed down to Key West to see friends and have a mini-vacation.
If you don't already know, it is virtually impossible to be stressed out in the Keys. That vibe just doesn't exist there and that's why I love going. This was actually my third time staying overnight, but I had many first-time experiences. Including trying oysters, which I have always been too grossed out by the texture to even try them. But I wasn't given a choice. El Hombre and I went with one of his friends to Alonzo's Oyster Bar and got a medley of tasty, very fresh seafood. There's nothing better than sitting down at a table overlooking the water after a blistering hot day, having a glass of wine and chowing down on sesame seared tuna, conch ceviche, crab claws and oysters.
Fishing, as evidenced by this pic, is a huge pastime and industry in the Keys, so you know your seafood will be good: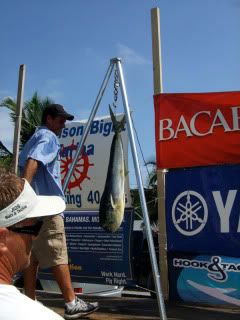 While there we rented bikes to get around, which is the best, and arguably the only way you should see Key West. Forget scooters, you can get horribly injured, and parking a car is a nightmare. With bikes you can get around everywhere, tie them to any loose pole and explore. Riding at night is my favorite, once the temps in the 70s and 80s, the wind blowing and the only sound is the occasional creak of the bike, the crickets and the frogs.
While there we also got to see one of my favorite bands, Suenalo, play two nights at the Green Parrot, a local dive on Whitehead Street. As usual they were awesome. I dance half the night away, hurt knee and all. Saturday night the bar was packed, so we stood outside. The rain opened up, cooling off the whole scene, and the band played on, through the thunder and lightning. It added a whole different vibe to the atmosphere as everyone packed in.
On the way to the Green Parrot from Alonzo's, I had to stop and be a total tourist. It's just in my nature:
The most photographed and most stolen sign in Key West
Another restaurant we tried was Bo's Fish Wagon. This place was built up all weekend, and we were not disappointed when we finally tried it. They had the best conch fritters I have had so far. Super delicious. They also have a blackened cheeseburger and a fried grouper sandwich, both are awesome. This is a small building, built off a wagon across from schooner's wharf. It started out as an actual wagon on Duval, but about 10 years ago the owner moved it across from the West Marine Store. I highly recommend it. Plus it's cool looking: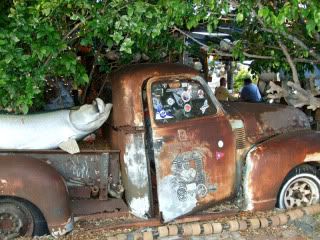 And on Memorial Day I finally got to go boating. I have been in South Florida for 5 years and have not been on a boat yet. It was amazing. The water was perfect, the weather was perfect. We boated out to a sandbar and hung out, swam and repeatedly coated ourselves with sunscreen with a few other people who apparently had the same idea: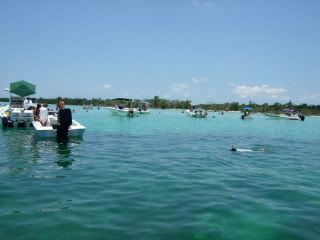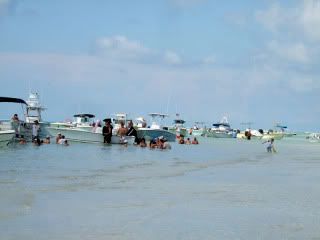 And on our way back home to Miami, I saw the greatest sign ever.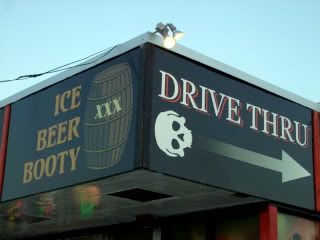 The three things you always need to get in drive through, right?