Sometimes there is nothing better than a perfect, clear Sunday afternoon in the Keys. Most people in Miami will drive to Tikki Bar (which we did later) or, if adventurous, will drive to Key West.
We stopped in Islamorada for lunch, and ended up driving a little more south to feed Tarpon, under the recommendation of El Hombre's cousin, and it was definitely cool. Admittedly I was pretty disgusted with touching dead fish, but quickly got over it.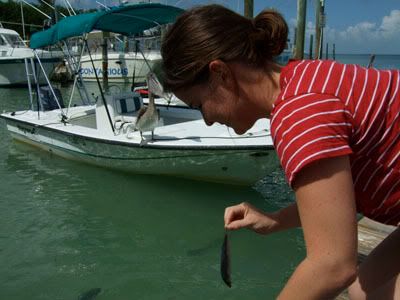 NOTE the evil bird in the background. I was enthralled with them until I turned around and had two pelicans less than 2 feet from me, flapping their wings and following me, trying to beg for fish. Not cool. Especially since I am a little terrified of birds. Especially big ones. And FYI, throwing a fish way out in the water does not make them go away. I tried.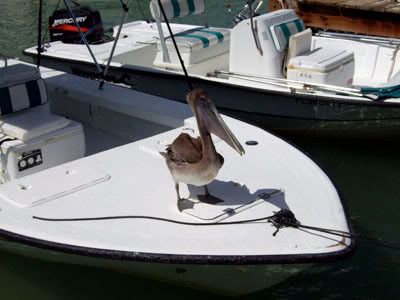 Not exactly something you want to be surprised from. But the fish feeding was cool. Essentially you lay down on the dock and wave the fish over the water and the tarpon will jump out of the water from them.
Check it out: