Around South Miami, there are alot of people who like to decorate their houses for Christmas/Chanauka/Kwanza/Etcetera. Some of these lights are tastefully done, you see many people who wrap up the palms which I personally think is awesome.
Some people however, look like their houses were vomited upon by the Christmas fairy. And I think they do it on purpose. I have a friend who's family cannot stand their neighbors across the street. So every year they put their lights on badly, clash the colors and put obnoxious things in the windows.
I truly home the below two houses (which BTW, I couln't capture the whole house in all their festive glories, so these pics have to do)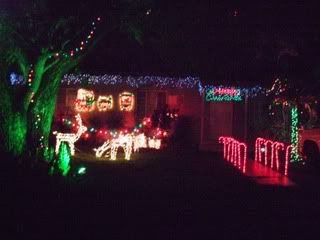 This house also has a ton of lights in the trees, the bushes and all over the house. They have more stuff along the side, but it didn't all come out.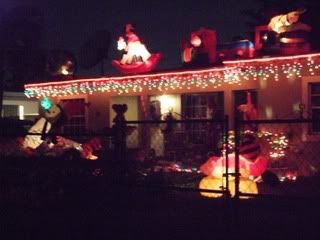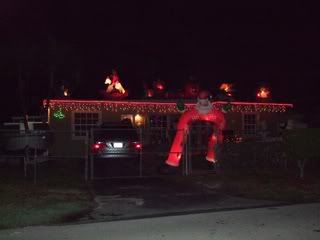 And this is one my roommate showed me. He laughs at the fact that there are twelve inflatable things in the yard and on the roof. We also were perplexed because they have a spotlight of snowflakes falling, but instead of falling down, they were falling up. Strange.
And normally I hate the inflatable santas because I think seeing them deflated during the day is disturbing. And call me elitist, I also think they are ugly. However, this is an exception because it is, in fact, awesome: