Hey all, I'm back from the dead (at least that's how I have felt for the past two weeks)
I haven't been around much because I have been working alot, including weekends and have been way to exhausted to write anything coherent, much less entertaining.
Last week I went to the Miami Seaquarium on Key Biscayne for work-related activities, and actually had quite a bit of fun, though was left totally and completely exhausted. I haven't been to the seaquarium in years, not since my sister came to visit and it was still under reconstruction. It's a pretty cool park to take kids, they have alot of different exhibits and shows, all of which are educational without lecturing. My entourage of 2nd graders dragged me from exhibit to exhibit and show to show to point out all the things and scope out all the animals. I learned that if you take a quarter and rub it against the glass, eventually the dolphins will swim up to you. I also learned that once you become BFF with little kids, they force you to sit in the front row of every show. Including the whale show. They really aren't kidding at the Seaquarium when they say you will be drenched if you are in the bottom rows. Lolita (pictured below) sent a tidal wave our way. The kids who insisted on sitting in the front row? Yeah they ducked behind me screaming each time. Greeeeeat. My parents thought this was hilarious.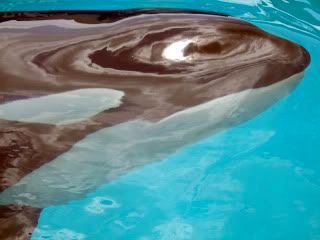 More pictures: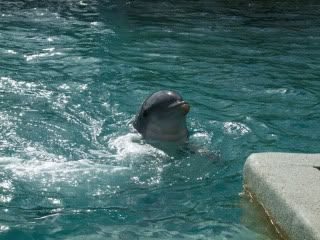 The dolphin was actually posing for all the pics.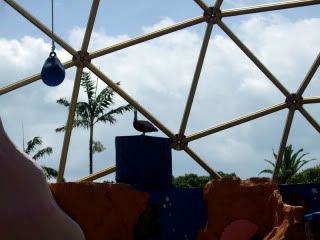 The pelicans and ibises chill at all the shows so they can sneak into the fish supplies when people don't pay attention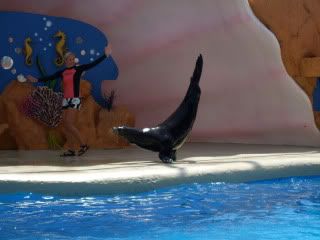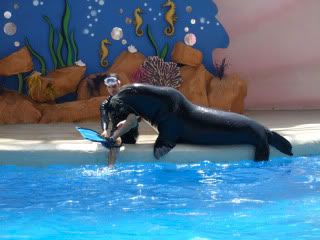 The sea lions also enjoyed taking a hose and spraying everyone during the show.
From the bird exhibits: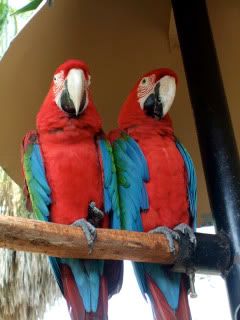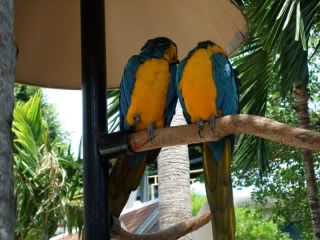 These guys were shy