I haven't ever been big into Valentines Day. Growing up, my family never really put much stock into it. We aren't some crazy weird religion that doesn't celebrate holidays or birthdays, but my mom is from Europe and I guess it's not celebrated there.
But this v-day was nice. Literally. This past weekend was beautiful, nice and warm and sunny. We spent the day walking the boardwalk (I will take full advantage of it until they tear it down.) In our walk we saw lots of families out enjoying the day and a wedding on the beach (cheesy as hell, but the bridesmaid dresses were pretty.)
The evening was beautiful too, a cool 70, perfect for walking around. We hit up Wynwood (but no music this time) and the crawl was dead, which I prefer because it's not flocked with underagers trying to score free beer. Several galleries closed, including FiFi, but I liked alot of what I saw out there.
At Praxis, Francisco Uribe was displayed, which I loved, because he is really interesting in his use of materials. He is the guy who did the Animal Farm exhibit during Basal. This time he used shoestrings on traditional canvas, making the pieces more 3D. Check it out: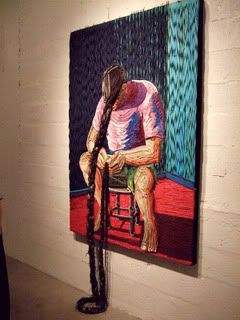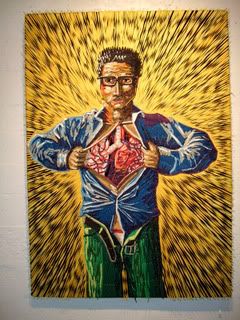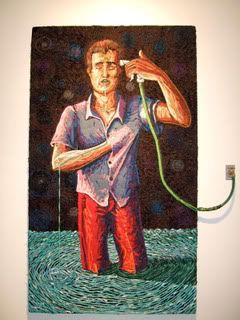 and from an angle: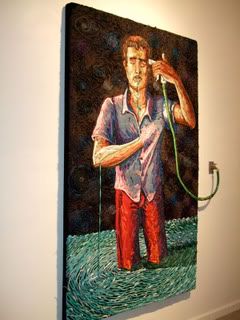 At Diet, I found these, which my inner ninja-nerd loved: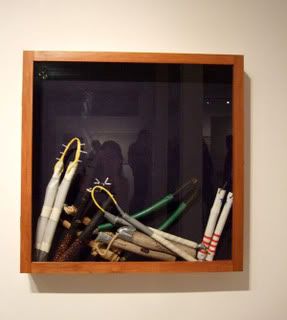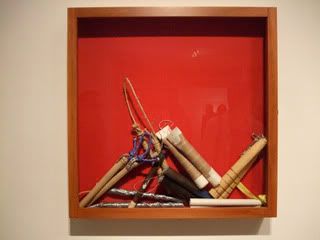 Across from Diet, there is a very Jackson Pollock-inspired gallery, which sometimes I like and sometimes I don't. The following is one of those that I can't decide on. It's strange, kind of like those out-there red-carpet outfits on A-list celebrities trying to stand out: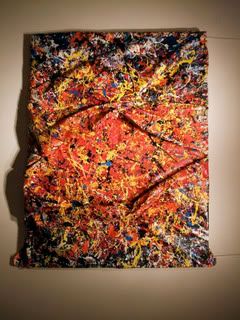 Pan American had alot of their "optical illusion" style pieces up, but I didn't get a good photo, so I didn't post it. This gallery is becoming one of my favorites because they have a good mix of artists, they change it up and they always have something that makes you stop and observe, like this: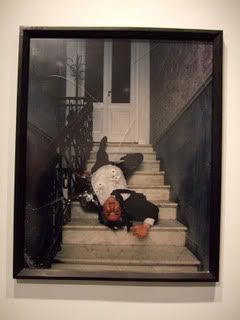 They actually shot the piece after it was put behind glass.
ISM also had new stuff up. Once again, I like their mix of artists (admittedly, when they have the roadkill stuff up, it sort of creeps me out and that hasn't been displayed for awhile)
I like what they did this time: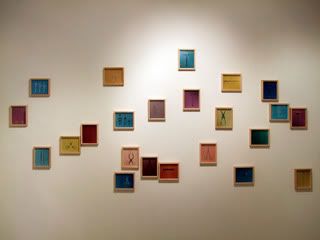 A close-up: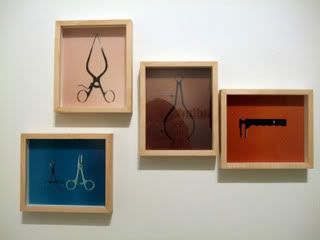 I loved this: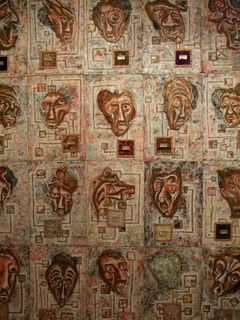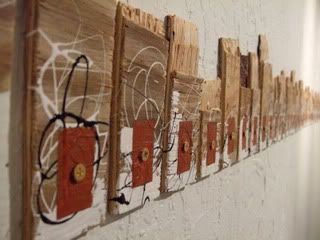 Then of course, as we were walking around, I caught some scenes from around Wynwood. As I was taking these pics, I realized that often I walk away from Wynwood with just as many pictures from the streets as I do from the galleries, and honestly, that has just as much draw for me, because you see art blooming in this neighborhood full of graffiti. I like that it sort of rubs out the pretension that clings to these things.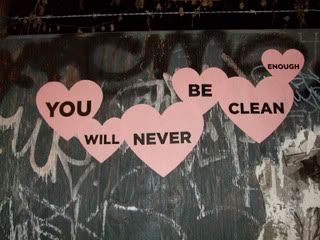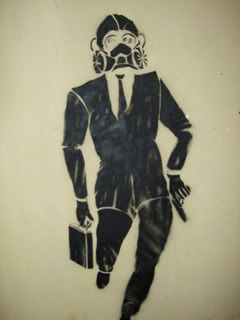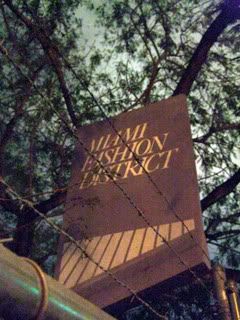 All in all, it was a good night. We finished up by heading to Transit to meet up with El Capitan and El Pedrino to catch a few drinks and jam out to the Spam Allstars. And again, for Transit on a Saturday night with a band like Spam, it wasn't too packed. I don't know if it's the economy or people were just busy getting romantical (yes I am aware that's not a word) with their significant others, but I appreciate being able to do things like dance, walk around and breathe when I am out listening to music.